Click here to view our JSI WASTE LESS HAY FEEDER MOVIE
CONFIRMED NUMBER 1 FOR LEAST WASTE IN THE 2010 FEEDER EVALUATIONS CONDUCTED BY THE U OF M!
It comes as no surprise that this feeder recorded the least waste of the 9 feeders evaluated at U of M, even though, in the test, they raked up all the hay around the feeders each day and did not limit the amount they had access to which defeated the purpose of the JSI Wasteless Feeder. It was still #1 for least waste.
During normal use with controlled access when you don't let the panels down more, or as much if there is hay on the ground, so horses clean it up, the waste is much less!

Less waste means less hay to purchase and less land to grow it!
Less waste to haul out and less land to spread! Also means, less labor!

PATENTED
Panels lay over the hay and can be easily adjusted downward allowing animals to eat only as much as you want them to and you can make them clean up what is on the ground before you let the panels down more. Notice that leaves fall back on top of bale, not on the ground!
Panels lay over the hay and can be easily adjusted down controlling how much they have access to. They can only fit their nose through the rods which prevents them from inhaling the dust. When they lift their heads up, the rods wipe off the excess hay which falls back in the feeder. If any falls on the ground you don't let the panels down as much which forces them to eat what is on the ground first. Our patented horse hay feeder comes assembled including a steel roof to protect from rain and snow.
BENEFITS
Controlled access allows you to feed as much as you want them to have. Saves hay.
Saving hay means you don't need as much land to grow it on and not as much area to spread waste and manure on.
Very little waste to haul out which saves labor for clean up.
Horses eat over the top of the bale so leaves fall back on top of hay, not the ground.
Spaces between rods are very easy to change.
Horses can't put their head down into the hay which prevents dust in their eyes and nose.
PVC pipe over rods helps prevent hair loss.
This feeder will last a very long time if set up in the fence line and protected in the back to prevent rubbing..
Convenient – just a turn of the crank to feed hay. No more wrestling square bales.
All steel construction, except 2×6's – also comes with a roof.
Lock can be turned back so panels free fall if you want to leave for a few days.
Comes assembled including a steel roof to protect from rain and snow.
| | |
| --- | --- |
| 1st Phototype | This is the amount of waste after feeding eight round bales on loose sandy ground in the JSI Wasteless Horse Hay Feeder. |
| | This picture was taken March 2013 after feeding my 2 horses all winter; notice this is the waste including snow, manure and the hay! This is the sixth year of using this same feeder and as you can see it can be used many more and then sold to someone else to use! |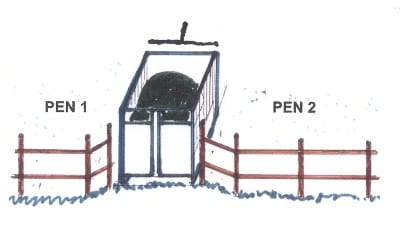 The front of the feeder can be placed with the doors in line with the fence or back just a little so you don't even have to go in the pen to let the panels down or to put another bale in the feeder. This would also prevent them from rubbing on the door. A wire can also be run through PVC pipe or hose to connect an electric fence to and placed across the back of the feeder.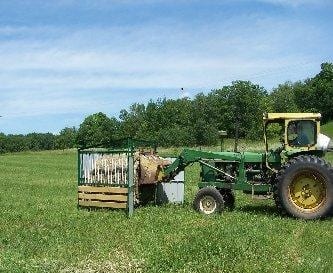 | | |
| --- | --- |
| | This one load is what I cleaned up around the hay feeder after feeding my two horses all winter. As you can see it's almost all manure. |
To order contact bill@teamjsi.com or 715-483-3866
Testimonials:
I just want to say I can't say enough about the Wasteless Hay Feeder. I purchased mine in 2008 and used it extensively until 2014 when I decided to sell it. We fed many horses out of this feeder, using the 2 pasture method. We live in Northern Wisconsin where hay is fed most of the year due to the cold climate and short growing season.It was easy to separate horses and let them eat free choice, but limiting their intake so they didn't get too fat. Loading the feeder was never a problem in the winter and the horses found it great to eat from as they could get their heads out of the blowing snow to eat. The hay never got wet and in the spring cleanup was a breeze. Each year, we only picked up one wheelbarrow of hay from both sides – that was the extent of the waste. My husband built a wood frame for the hay to sit on and put skids under the feeder, but that was the only modification that was made. We didn't need to replace any parts. Bonus – when we decided we didn't need this anymore – I sold it for $800 bucks.
Cindy Chase
Phillips, WI
—————————————————————————————–
Just wanted to let you know how happy we are with these feeders. The cost of wasted hay plus time and effort to clean it up, makes them well worth the cost. Thanks so much!
Laura
Sidney, MT
—————————————————————————————–
Bill,
Since purchasing our JSI waste less hay feeder, not only do we have the ability to control the amount of wasted hay, we have the ability to control the amount of feed consumed daily. The feeder will self feed if we leave town, but I really appreciate being able to control the amount daily consumed. As you know when horses are bored they eat!!! Not anymore. We really feel this was a wonderful investment, as it pays back daily, and it is well made so it should outlast the horses using it. Thank you again. -Mike & Jill
—————————————————————————————–
Bill Kurtz,
Waste less horse feeder are great. There is no waste at all. We're really happy with our feeder. We've had it for about 2 yrs and we LOVE IT. No wasted hay at all. No more spring cleaning around feeder. It's great! I save hay & time.  -Pete & Mary
——————————————————————————————
Bill,
I had the pleasure to purchase one of your Hay Feeders about a year ago. It has been the best equine investment I have made. Your Hay Feeder has made my life much easier. With placement in my fence line I no longer have to fight with my pasture gate to get my round bale in the pasture and not letting my horses out. My overall hay usage is down about 18% with my 6 Quarter horses, and I just let the feeder panels free fall. I do not ratchet them down at all. My horses are healthier as they cannot stuff their noses deep into the round bales, I feed. My 1 feeder has worked good for my 6 horses, that are pastured together 24/7.  Bill, Thank You for the wonderful hay feeder you have designed. I would highly recommend your feeder to anyone pasture feeding horses. -Gary P.
——————————————————————————————
A couple of years ago I bought a JSI horse hay feeder. It was sold as a feeder that would save hay. It has saved me hay which I appreciate. The additional feature I appreciate is that it keeps the horses from eating deep into the bale which causes breathing problems from the hay dust. I certainly recommend this hay feeder. -Stan
——————————————————————————————
To who it may concern,
I have used the feeders for five years, and have saved at least 30% of total hay used. If you have good quality there will be very little waste. They eat it all, even what is on the ground. I even use it in the summer. I love the idea of only giving them so much. Peter
——————————————————————————————
The JSI feeder is one of many products designed & or developed by Bill Kurtz St.Croix Falls WI. Founder of JSI INNOVATIONS LLC.Bill designs & builds all hisown prototypes in his farm shop at the Kurtz Angus Ranch! The feeder is one of two items that he received International Awards for.The Minnesota inventors Congress chose five inventions to take to an expo. in Bang-KoKThailand where he received a Bronze Medallion for his Mass Transit Concept. Prior to that he was awarded a SilverMetal & an International Award for the Waste Less Hay Feeder at the MN. Inventors Congress! He is now in his 5th year of using the feeder for his horses.